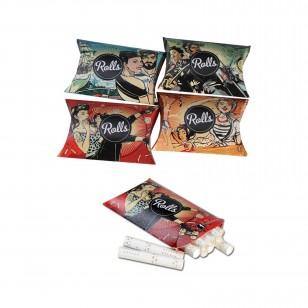 Rolls- Smart Filter VIP Pack 10pcs
Pickup currently unavailable
Thanks to the latest laser technology, Rolls' Smart Filter VIP Pack ensure the cooler smoke and, in combination with the specially developed filter material, a more pleasant and pollution-free consumption is made possible.
Overall, this results in a better and at the same time fuller taste, as bitter substances from the herb mixture are filtered out. The filter material filters out pollutants such as tar, condensates, benzene, particles and other harmful substances during use.
THC and CBD are not filtered!
Innovative cooling system: the embers of a herbal mixture can be between 400-700 degrees. Temperature drops are in the millimeter range. Due to the length of the filter and the special cooling system, the air can be cooled down by up to 200 degrees.
Application: The filter is wrapped halfway in the rolling paper with the direction of the logo. This allows the cooling system consisting of 6 suction holes in the form of crosses to add cool air to the overall smoke.
Pocket Pack: With the practical Pocket Pack with a special opening and individual design for on the go - easy and quick removal!
Brief description of the print: Rolls logo
Motif / Design: 4 different designs
Length: 35mm
Diameter: 6mm