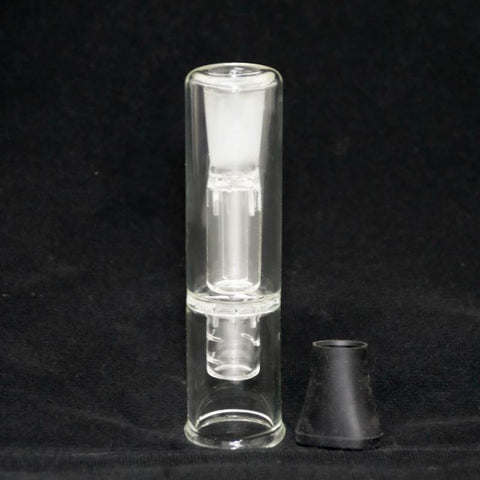 Water filter 14 cut for Pax 3
Pickup currently unavailable
Water filter / water bubbler with 14 cut for PAX 3 vaporizers

The water filter with a female 14.4 cut, which was specially developed for the PAX 3 with the corresponding adapter. It should be mentioned that the bubbler can be used on any device with a 14.4 cut. However, the supplied silicone adapter is specially designed for the PAX 3.
 
This accessory is a must for everyone who wants to use our various vaporizers with additional efficiency and increased performance. The water filter is made of high quality borosilicate glass and ensures that the steam is even cooler and therefore better for your throat and lungs.
What are the advantages of a water filter on a vaporizer?
Since the steam is also filtered, it is cooled down immediately after generation and any remaining impurities are removed. The steam is therefore much purer and fresher and the inhalation is almost free of harmful substances.
Since it means a significant increase in the mouthpiece, the standby mode and automatic switch-off are not prevented by themselves. On the other hand, it helps to pinch the rubber attachment with your thumb and forefinger in between.
DANGER: Vaporizers are mostly electronic. Therefore, they must not come into contact with water. Please do not fill in too much water and do not hold the water filter at an angle so that no water runs out! Before placing it on the vaporizer, please check that the joint is dry and that no water can run into the vaporizer or heating chamber!
Water filter details:
Height: 127 mm
Diameter: 34 mm
Water filtration
Percolators with 20 slots
Borosilicate glass / laboratory glass
14 mm inside grind (14.4 mm)
Scope of delivery water filter:
1x water filter with a 14 cut
1x silicone adapter for PAX 3